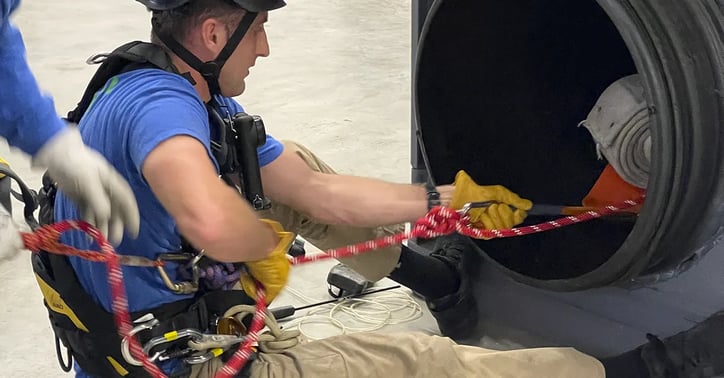 Workplace Safety Classes
Confined Space Rescue Technician
The Confined Space Rescue Technician training is an intensive 40-hour course that focuses on preparing individuals to perform safe rescues in confined spaces, which can be hazardous environments. Through hands-on training and realistic scenarios, participants gain the confidence and skills needed to handle these challenging situations effectively.
This program meets 29 CFR1910.146 and NFPA 1006 Chapter 7, which entails CSR Awareness 7.1, Operations 7.2 and Technician 7.3 requirements. Additionally, the applicable requirements of NFPA 1006, Chapter 5, Rope Operations 5.2 will be delivered. All students shall be fit tested and medically cleared to wear a respirator and perform the skills of a confined space rescue technician.
During the training, students will learn a wide range of essential skills for confined space rescue, including:

Rescuer safety

Team evaluation

Pre-planning

Supplied air-breathing systems

Atmospheric monitoring

Communications systems

Personal protective equipment

Patient packaging and recovery

Tripods and other artificial high anchor points

Lock-out, tag-out

Rope systems for confined space entry and rescue, and more.
Class Location: First Choice Safety Solutions Training Center
Duration: 40 Hours
Upcoming Confined Space Rescue Technician Events