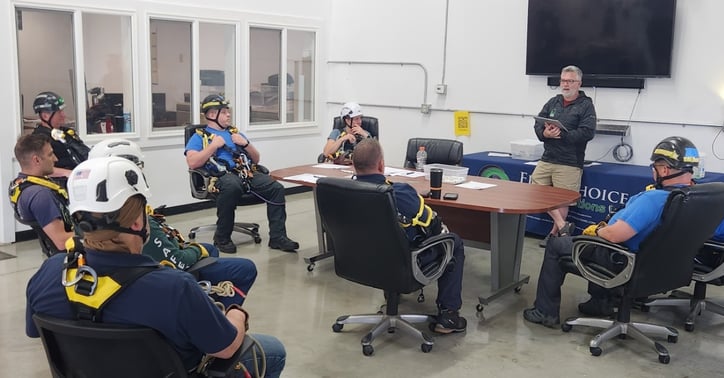 Workplace Safety Classes
SPRAT Fall Protection Certification
Get SPRAT Fall Protection Certification for credible expertise in fall protection.
The program includes the following:
Third-Party Certification: SPRAT certification adds credibility to your skills.

Comprehensive Knowledge: Learn about fall arrest, work positioning, and travel restraint.
Hands-On Training: Master equipment use and limitations through practical training.
Calculation of Clearance Distance: Accurately calculate clearance distance to enhance risk mitigation.
Our two-day certification course incorporates a blend of classroom instruction and extensive hands-on training. Each exercise focuses on minimizing free fall potential and transitions between fall protection systems.

Evaluation criteria are based on performance principles, aligning with SPRAT's rope access evaluation standards.
Fall Protection use

Travel Restraint Systems

Overhead Self-Retracting Devices

Ladder Fall Arrest System Devices

Horizontal Lifeline

Energy Absorbing Lanyards and Backup Systems

Energy Absorbing Lanyards and Descent Control Devices



Ideal for employers, rope access technicians, and those working with fall protection systems. Meets/exceeds OSHA and ANSI standards (29 CFR 1910 Subpart D, 29 CFR 1926 Subpart M, and ANSI Z359). Price includes SPRAT Certification fees.
Class Location: First Choice Safety Solutions Training Center
Duration: Two days
Upcoming SPRAT Fall Protection Certification Events